Ornamental Bark Chip 8-35mm
AJ-contract-orn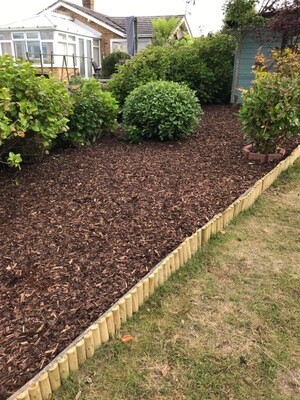 Bark Chippings
Price :
104.33
GBP
In stock
[tab name="Description"]
Contract Ornamental Bark Chippings
Our contract ornamental bark mulch, a quality bark suitable for all mulching applications big and small where an attractive yet durable product is require.
Our Best Selling Bark Mulch
Attractive and Long Lasting
Suitable for Mulching and Paths
Available in Bulk Bags, pallets 55 x 60 Litre Bags Online
For Bulk Loads over 20m³ call us on 01785 850 653 or drop us an email.
This product is small / medium sized bark graded 8-35mm and is a quality mix of chipped pine and spruce bark peelings, available in bulk bags 60 litre bags and bulk loads.
[endtab]
[tab name="Shipping and Returns"]
Delivery Information
**PLEASE NOTE** WE DO NOT DELIVER ON TO GRAVEL!
Our products are delivered on pallets, on curtain sided lorries with a tail lift and pallet trolley and are only guaranteed to the kerbside. Please note items may be delivered in multiple deliveries.
See our delivery details page for more information on our delivery service and Terms and Conditions.

Orders can be delivered next day if placed before 1pm Monday to Friday & next day delivery is selected, we can also deliver on Saturday mornings, Sat Am option must be selected in the checkout.
The order cut off point is 1pm each day Monday to Friday.
Returns
Please read our delivery information carefully. Delivery failure, will result in either a re-delivery or a return / cancellation charge. Both of these are expenses that are covered by the customer, and vary depending on postcode. If you have any concerns over delivery, please ring us on: 01785850653
[endtab]
[tab name="Bark Calculator"]
Tip - There are 1000 litres in a cubic meter.
[endtab]
Suitable for:Flowerbeds, borders etc
Pack Sizes:Bulk bags or 70 Litre Bags
Available in Bulk:Yes - orders over 20m3 - call 01785 850 653
Product Lead Time:1
Standard Bulk Bag - On Offer (0)
2m3 Jumbo Bag (2000 litres) (0)
10 x 70 Litre Bags (700 litres) (0)
15 x 70 Litre Bags (1050 litres) (0)
20 x 70 Litre Bags (1400 Litres) (0)
30 x 70 Litre Bags (2100 litres) (0)
40 x 70 Litre Bags (2800 litres) (0)
55 x 60 Litre Bags (3.3m3) Value Pack (0)