LAMMA Show Woodchip - AGCO
We supply alot of woodchip for use at festivals and events throughout the country, from just a few m3 to 10,000 m3 depending on the project and customer requirement.
Our latest project was for the LAMMA Show - The UK's Leading Farm Machinery and Equipment Show the show was held in January at Peterborough show ground.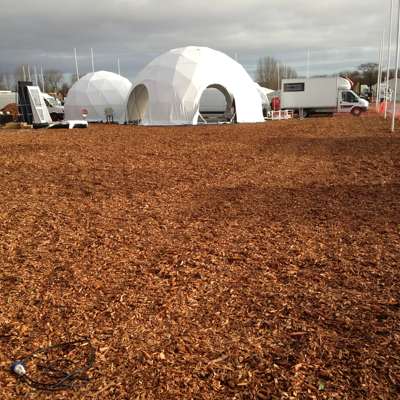 The conditions were wet to say the least! We delivered our event and festival woodchip on a tight delivery schedule to a busy show ground days before the show was due to start. Our chip was used to protect the ground during setup and then as a base for the out door exhibition for AGCO's machinery stand.
Find out more about our Event & Festival Chip here
Here is what our customer had to say:
"The lorries were there on time, and the drivers were very helpful tipping exactly where we wanted, albeit a tight space. We had a crew of about 10, with 2 telehandlers laying membrane and then covering with woodchip and the resulting surface was ideal for both the rest of build-up for placing machinery, and more importantly for the event itself.
As you know the event was pretty wet, so the surface helped to show the AGCO kit off to its best effect and made it comfortable for visitors to spend time on the stand and talk with staff.
We had plenty of people asking us for spare woodchip, and where we got it from.." Jimmy B